How do I add placement hours?
Navigate to the Placement Dashboard and click the Add Hours button (this is how a student adds placement hours)
Employer contact information will auto-fill based on what a student has entered in their Placement Settings (students can add multiple employers, set one employer as the default and select other supervisors from a drop-down menu)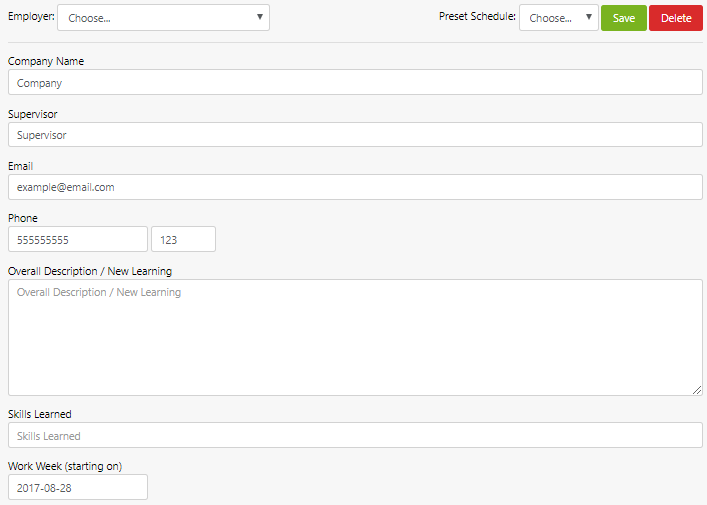 Add a description in the Overall Description / New Learning field. This is a high level summary of the week – in one or two sentences describe your week (i.e. "This week I focused on administrative tasks.")
Select Skills Learned (click on drop-down arrow to view and check off skills) based on the Ontario Skills Passport. Students can also add their own skills. They just have to type in the skill they learned.
How do I add a shift?
The Work Week date auto-populates for the current week (select the calendar to adjust the dates to previous or future weeks)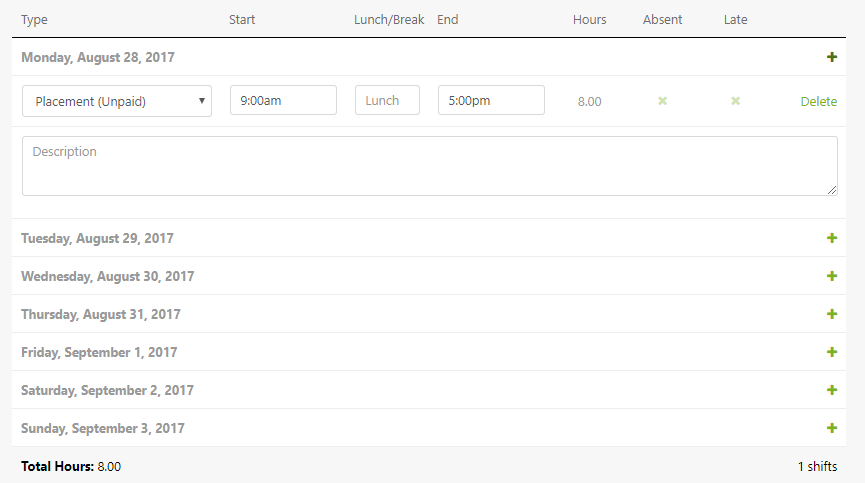 Select the + beside the work day
Add Start Times and End Times (15-minute increments), Lunch (in minutes), check off if Absent or Late and enter Work Activities for each day of the placement, including reason for absence or lateness.
Finally Save or Submit placement activities to your employer
Notes and Tips
Students have the ability to delete a shift by selecting Delete. Students can also add an extra shift by selecting the + button again if a student worked more than one shift per day.
When a student selects Save, then they can continue editing the form and submit it when they're ready (e.g. students can edit and save forms as often as necessary; – hourly, daily or weekly).
When a student selects Save and Approve, their employer will receive an e-mail that summarizes all the activities and the employer will have the option to verify or decline, and comment on a student's activities.
Once verified by an employer, a student's dashboard and progress bar will automatically be updated!
Double-check your placement hours before submitting it to an employer for approval. A confirmation pop-up box will appear saying "Are you sure you want to save and approve these hours?"
If entered, Lunch minutes are deducted from the total hours for that shift
Absent indicates that a student was scheduled to be at their placement but were absent. This field is not to be used for a rescheduled shift or holiday.
Click the Guidelines button  on your Placement Dashboard to learn more about the placement program at your school board.