Select the student learning plan and scroll to the bottom of the learning plan.
1. Click the

button                                                                         (under Course Expectations or Employer Expectations groups at the bottom of   your plan)

2. From the pop-up menu, select the relevant tab (e.g. Curriculum) and "Choose" from the drop-down:
(i) Course Expectations
– Curriculum
– Course Favourites

(ii) Employer Expectations
– Occupations (NOC)
– Positions
– Trades
3. Select the relevant expectation(s) by clicking on the expectation (e.g. A1.2 in the screenshot below)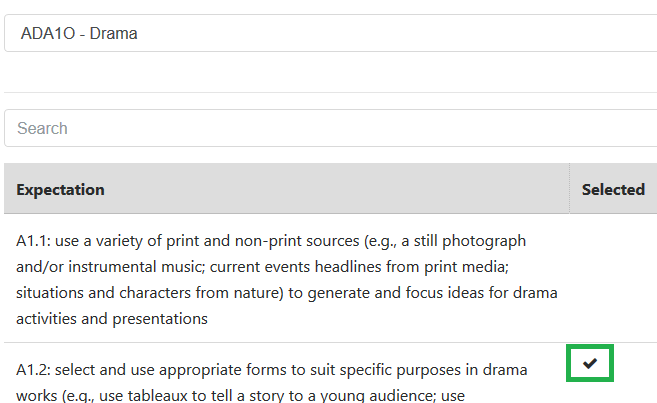 When you click on an expectation, it will be included in the learning plan and a check mark will appear under the Selected column to indicate this (outlined in green above).
Once you are done selecting expectations, click anywhere outside of the pop-up box to return to the learning plan creation page where you will see the expectation included.
4. Save the learning plan or Save and Export
RELATED QUESTIONS
What if my expectation is not listed?
(i) You can insert your own expectation by clicking  

(ii) You can add employer expectations under an employer's profile                       (Employers section > Search and select employer > Positions tab > Expectations field)
How do I create custom course expectations that I can add to my learning plans?
Teachers can create new courses and add frequently used expectations to make plan generation faster.
1. Select Courses in the top right to access the Course Favourites section
2. Click Add Course and fill out the course Code and Name
3. Under the Expectations field, add your frequently used expectations
4. Save
NOTE: Press the "Enter" key to start each expectation on a new line so the system will recognize each expectation separately
NOTE: These expectations can also be located under the Course Favourites tab in the pop-up menu that appears when you click