If your form does not open when you attempt to Save and Export, it is likely due to your browser preventing pop-ups from opening (pop-up blocker). The exact steps for enabling pop-ups vary slightly by internet browser but are generally similar. Below we've included the steps for enabling pop-ups in Internet Explorer, Google Chrome, and Firefox.
If you use Chrome :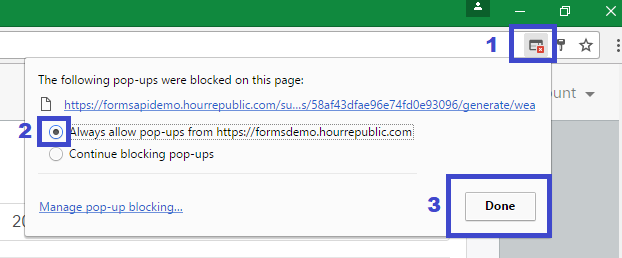 Click the Pop-ups Blocked button in the address bar when a pop-up (in this case your form) is blocked
 Select "Always allow pop-ups…"

Note: Ensure you are allowing pop-ups for Hour Republic by seeing if the link matches the website

Select Done
Your forms should now appear when you Save and Export them
NOTE: You can also allow pop-ups in your Chrome Settings. Click here for more details.
If you use Internet Explorer :

Click "Options for this site"

Note: This bar will appear at the bottom of your screen when Internet Explorer blocks a pop-up

Select "More Settings" to open Internet Explorer's pop-up settings menu (shown below)
Under "Address of website to allow" you can type in or copy and paste the Hour Republic web address
Click Add to add Hour Republic to the list of websites that Internet Explorer will not block pop-ups on
The Hour Republic web address will then appear in the "Allowed sites" box
Click Close
Your forms should now appear when you Save and Export them
If you use Firefox :

Click the Pop-ups Blocked button in the address bar when a pop-up (in this case your form) is blocked
 Select "Allow pop-ups for…"

Note: Ensure you are allowing pop-ups for Hour Republic by seeing if the link matches the website

Your forms should now appear when you Save and Export them