Students and teachers can access Hour Republic using their Google account information, as follows:
FIRST-TIME USERS
1. Click Register or visit the Login page and click: 

2. Select your Google account (e.g. name@gmail.com below):


3. You will be redirected to the Log In page below:
If you are a first-time user, please register here if you are student or here if you are a teacher/coordinator.  Once the registration process is completed, you can login with your Google account going forward.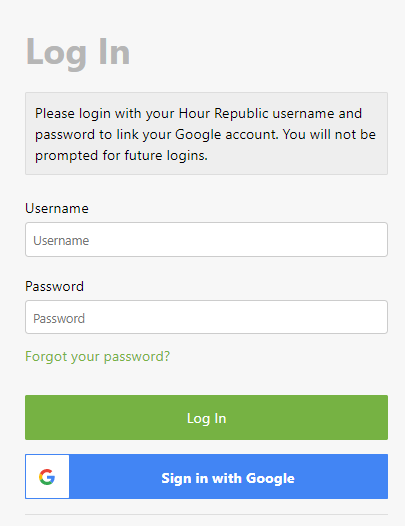 EXISTING USERS
If you already have an Hour Republic account, then please log in to your existing account in order to link your account with Google.
Once logged in, visit your Settings and select the Linked Accounts tab. Click: 

If you are already logged in to your Google account, then the accounts will automatically be linked. Otherwise, you will be requested to log in to your Google account to complete the process.