#1

: Click on the Forms tab in Hour Republic to create a new form

#2

: Click on the type of form you would like to create (e.g. Learning Plan)

#3

: Complete the following 6 fields, and Save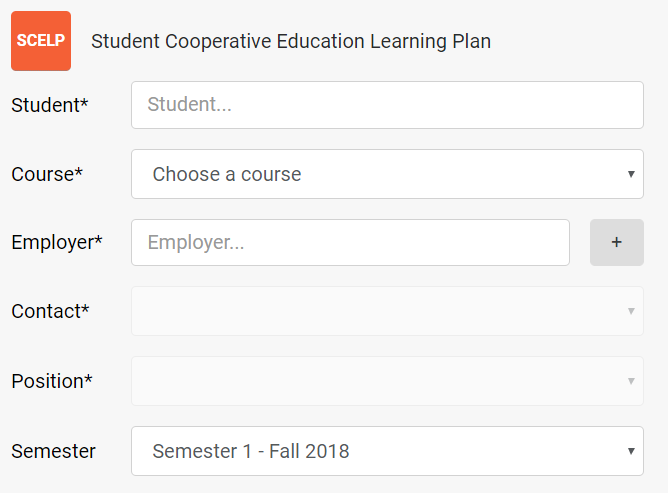 Type in student name (First OR Last name) and select
Choose Course from drop-down
Type in employer name and select                                                                                      *If an employer, contact or position are missing, then click the + symbol to add any missing information to the employer database directly from the form.

Select Contact (this is the placement supervisor; if missing, click the + symbol)
Select Position (this is the job role of the student; if missing, click the + symbol)
Select semester (if different than default)
Once the above fields have been filled out, click Save.

#4

. All new forms will appear under Recent Forms. Click on the desired student's form (right-side)

The following fields will be auto-selected based on selections for this student in previous steps (e.g. Form, Student, Employer, Position, Contact, Course).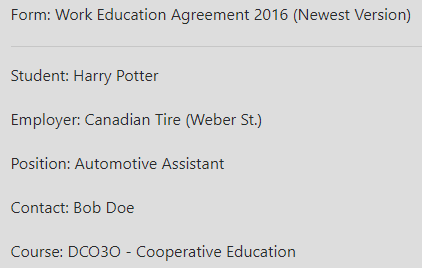 Ensure all of the above fields are auto-selected before selecting the Auto Fill button (see screenshot above).
#5: Click the  button to auto-fill the form, then Save.
NOTE:
If you are creating an OYAP form, you will need to check off the Registrant box at the top of the form in order to auto-fill it.

#6: Click Save or Save and Export
The learning plan will export to PDF or HTML.  Note, if the learning plan does not export, please ensure that your pop-up blocker is turned off [see FAQ].
ADVANCED SEARCH & FILTERS
Access the following sections (bottom-right):
– All Employers
– All Students
– All Forms
– All Plans
– Reports
– Course Favourites

COPY a FORM
You can copy a student's form or learning plan to use for another student. Simply press Copy > complete the 6 fields for the new student you wish to copy the information to > Save