Hover over your name (top right) and select Opportunities.
This will take you to the Volunteer Opportunities Dashboard, which lists All, Active and Inactive opportunities.
Select the Add Opportunity button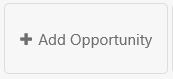 and fill out the form with details about the opportunity:
Opportunity name
Organization name
Website link (e.g. organization's website)
Hours requested for this opportunity
Description of opportunity
Contact Name (First, Last)
Email address
Phone number
Type of opportunity
Event name (if applicable)
Date (Start to End date of opportunity or event)
Weekdays (days requested for volunteers)
Street address
City
Province
Interest categories (select all that apply)
Select Create

when complete, and the opportunity will be posted for students.
Select the Reports button

to run a report of all opportunities posted, available in Excel and PDF formats.