Q. How do Teachers/Coordinators update the progress bar for all of their students?
1. Click on the tab (left panel) with your school's name

2. Select the tab on the left that says Progress Bar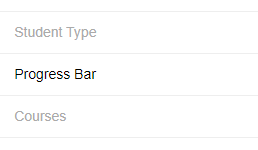 3. Once on the Progress Bar page, you can adjust the minimum hours needed for different hour types such as Volunteer, Placement / Co-op, and Extracurricular hours, by typing in the desired number.

4. Once you're finished adjusting the minimum hours, please select 

Q. How do I Use the Progress Bar?
1. Progress bars for individual students can be viewed in the Hours section of the student profile.
Students can adjust their individual progress bar settings by clicking the gear icon below their progress bar.

3. The progress bar displays the total number of hours a student has including their Rejected, Verified, Pending and Draft hours. There are 5 colours used for the progress bar:
Red = Number of Rejected Hours
Dark Grey = Number of Draft Hours
Orange = Number of Pending Hours
Green = Number of Verified Hours
Light Gray = Number of Hours that have yet to be completed
3. You can also adjust which type of hours are being shown on the Progress Bar by clicking the All Hour Type filter and choosing the desired hour type.