If you would like to access Hour Republic from a student's perspective, then you can simply register as a student.
A: Hour Tracking
Register for a student account by clicking here. You will gain access to your new student account automatically after registering.
B: Form Software Access
1.  In order to link this new student demo account to our Forms software, you will need to come up with a unique OEN/ID.

NOTE: We recommend something around 10+ numbers long so that there is no risk of using a student's actual OEN/ID
2. Login to your teacher account and click on your 

 tab
NOTE: Normally, we import students into the form software. In this scenario, you will be adding a demo student to the form software manually.
3. Scroll down until you find the Advanced Filters and click on All Students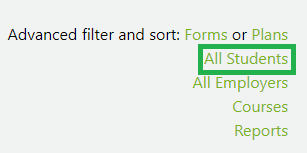 4. Click on 

5. Now fill in the demo student's information, make sure that the OEN/ID field exactly matches the one you used to register the account. If they do not match, your demo student account will not be able to access Forms.
Note: For more details on how to set up a student profile in Forms, please see here
6. Select Save to save your changes.
Now your demo student has access to our Forms software. When you login as the student and click on the 

tab, you will be able to create your own forms. Please see here for a guide on how students can create forms.