You can create a PDF version of reports by following these steps:
1. Click on the 

tab on the left sidebar.
2. Select the desired report. Once you apply all the filters, click 

.
3. You will be taken to a web version of the report, right-click anywhere on the page to open up a menu. Select the Print… option.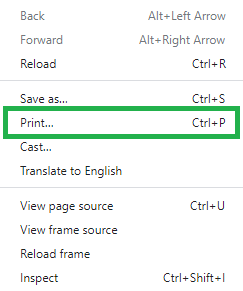 4. Once you click Print… a pop up menu will appear. Set the Destination to Save as PDF.

4. Select the

 button at the bottom of the page.
5. Save the file to a location on your device.