Teachers can add comments and attachments to forms. These sections are located at the bottom of each form.
Attachments
Click to expand the Attachment section, and Choose File.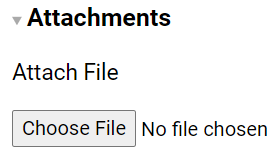 Select the file you wish to attach, and the file will automatically be attached to the bottom of your form, as follows:

Comments
Click to expand the Comment section. Add a comment and click Post.
By default, comments are "private'. If you want the student that is associated with the form to view your comment, then click the Public checkbox.
Each comment can be edited or deleted (by teachers only).
Indicators – Recent Form Section
In the Recent Forms section, each form shows comment, attachment and e-signature indicators as follows:

You can hover over each indicator. For example, if you hover over the attachment icon, it will show you how many attachments have been added to a particular form.