Students have the ability to create and/or contribute to their learning plan or other forms such as WEAs, OYAP forms, etc.
The process for creating a form or plan is the same for students and teachers. The main difference being, students only see their own information whereas teachers have access to their entire class.
#1

: Click on the Forms link in Hour Republic
to create a new form

NOTE: 
The student ID (or OEN) needs to be accurate in order for a student to access forms. If any issues arise, then please check student Settings and ensure that the OEN is accurate (enter the OEN with no dashes).
#2

: Click on the type of form you would like to create (e.g. SCELP)

#3

: Complete the following 6 fields, and Save
NOTE:
- ***If your teacher has already created a learning plan or form for you, then please skip this step (Step #3)
- If your teacher has already entered your course, employer, etc. for previous forms (e.g. WEA), then this information will automatically appear.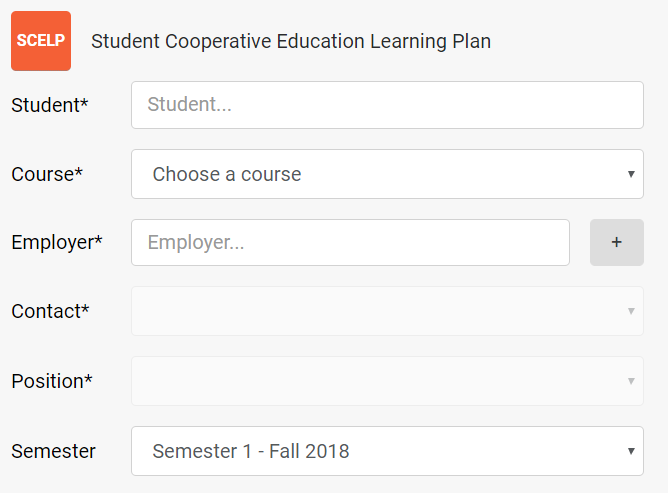 Type in student name (First or Last name) and select from drop-down
Choose Course from drop-down
Type in employer name and select
TIP: 
When searching for an employer, type in part of the name (e.g. "Shopper" instead of "Shoppers Drug Mart" so that you can avoid adding a duplicate employer or the same employer twice. 
Some people mistakenly spell a company name (e.g. "Shopper's" instead of "Shoppers"; or, "Drugmart" instead of "Drug Mart".
*If an employer, contact or position are missing, then click the + symbol to add any missing information to the employer database directly from the form.

Select Contact (this is the placement supervisor; if missing, click the + symbol)
Select Position (this is the job role of the student; if missing, click the + symbol)
Select semester (if different than default)
If the "Show more fields" link does not automatically expand for you, then please click the Show more fields link in order to select the name of your Co-op Teacher.

Once the above fields have been filled out, click Save.

#4:

 All new forms will appear under Recent Forms (right-side of screen). Click on the plan or form you just created.

The following fields will appear (e.g. Form, Student, Employer, Position, Contact, Course).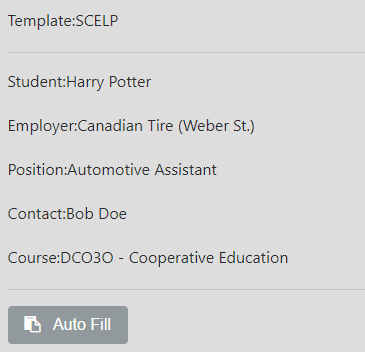 #5

: Click the  button to auto-fill the form, then Save
NOTE for OYAP Forms:
If you are creating an OYAP form, you will need to check off the Registrant box at the top of the form in order to auto-fill it.

#6:

 When complete, click Save or Save and Export
The learning plan will export to PDF or HTML – we recommend that you export to PDF.  Note, if the learning plan does not export, please ensure that your pop-up blocker is turned off [see FAQ].